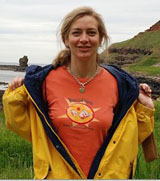 Whether it's rules or T-shirts, score sheets or boccelism equipment and accessories, we provide it all here - directly from HQ or via links to featured vendors and organizations.
We take particular pride in being authorized as the Official Online Portal of the American Boccelism Association, the organization which oversees all Organized Boccelism in the United States, its territories and possessions.
---
Boccelism 2017 - Upcoming Events
Saturday, March 18th boccelism returns to the Oakbrook Lane Tossing Grounds as part of the Claycifer's Birthday extravaganza. Visitors to the Grounds are reminded to watch their step navigating around the many tree stumps at this scenic location. Please note that this is an 18-and-over event, so don't forget to schedule a sitter as needed.
---
ABA Handicap System Guide
Learn all the details about establishing your boccelism handicap by checking out the latest update about the ABA Handicap System.
---
How Do I Find...?
The Rules: Go to the Downloads page, where game rules, score sheets, and other documentation can be found in the .pdf file format.
Boccelism Sets: Visit the Merchandise page for information about ordering game equipment, accessories, T-shirts and more.
More Information About The Game: Head to the Tips & Such page for handy hints on playing, scoring, and judging, including more helpful .pdf files.
---
***Boccelism Forum Temporarily Out Of Service***
We are in the process of making administrative upgrades to the Forum, so it is currently unavailable. Announcements and information will be posted on the News page until the upgrades are complete. To announce an event or share other important news with the global Boccelism Community, contact us at
info@boccelism.com to submit an article for posting.
---
Check out Todd's Font Picker to customize your Boccelism experience.