What The Heck Is Boccelism?
Boccelism is an outdoor game that merges the targeted tossing of horseshoes with the crash of bowling to create a backyard spectacle that can be as exciting to watch as it is to play. Tossing full-sized bocce balls at metal-bucket targets, the players compete to outscore one another through accuracy, crushing blasts, touches of finesse and a heavy dose of style.

---

Balls and Buckets
Official Boccelism Balls & Buckets can be delivered to you from Boccelism HQ (check out the Rate Card on the Merchandise Page for details on package options and pricing); for the do-it-yourselfers you'll need to get the most robust bocce set you can find for the balls; two 10-quart mop buckets and two 5-quart paint buckets are needed to set up the targets.

---

The Basics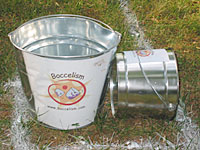 Figure 1. Proper Target Orientation

---

Figure 2. Court Layout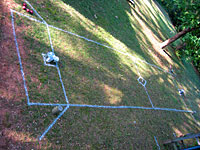 Scoring
One point is scored every time a ball strikes the target; in addition, the winner of each exchange of single tosses scores an extra point. The winner of the exchange is decided by the judge (see Figure 3), who weighs the merits of competing hits; if both players miss during an exchange, no extra point is awarded.

---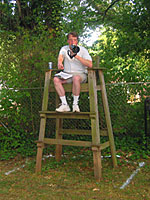 ---

The Details
For more on what you need to play and an introduction to basic rules and game organization, see Beginner's Boccelism on the Downloads page; also available there is the complete Rules Of Boccelism, which includes a glossary of Boccelism terms, as well as details about bonus points and other nuances of the game.