Informal Scoring
The boccelism scoresheet provides tidy boxes for recording and totaling all the various scoring events that can occur during a case, but is not a necessity for keeping track of the score of a casual game. All one needs is some scratch paper, a chalk board, dry-erase board, or something of that sort so that the judge can jot down running totals or make tally marks for the case in progress (see the Simple Score Sheet on the Downloads page).
As long as the judge takes proper note of the number of quarries and dalrymples completed, as well as each player's total score, there is no need for any detailed breakdown of quarry-by-quarry scores, specific bonus points awarded, etc. This procedure is an excellent method to introduce novice players and spectators to basic game concepts in an informal and non-intimidating way.
---

Using Score Sheets
When you're ready to start compiling individual player statistics, you'll need score sheets (see the Downloads page). For an overview on keeping score, including examples of actual case-play score sheets, download these scoring tips.
---

"We Need A Judge!"
Don't look at the ground when you here those words, get in the chair. Novice judges needing encourging words and some quick rules references can download these judging tips.
---

Bucket Repair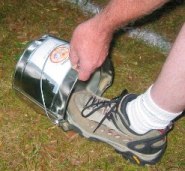 Bend, push, reshape; reattach that handle. The recommended method for stretching a crunched bucket is to pin the bucket to the ground with one's foot while pulling on the rim with the hands. Pliers, vice-grips, ball-peen hammers and the like are not necessary, but creatively extending the life of deformed buckets can come in handy when you're waiting for delivery of Official Replacement Buckets and no local hardware stores are open.

---

Marking The Court
Fancy line painters are all the rage, but not particularly portable or conducive to impromptu tossing. Convenient substitutes include carpenter's chalk or simple spray paint; just marking the target spots and perhaps dashing off fault lines is enough to maintain the integrity of the basic dimensions.

---

Alternate Tossing Distances
Not everybody is ready to start out tossing at the Official Distance of 36 feet. The suggested distance for Youth Boccelism (under age 10) is 18 feet; for Juniors (under age 16), Seniors and Novices the suggested distance is 28 feet. Just don't let those Novices get too comfortable tossing from the "white tees"; they need to move to the back line once they've got a case or two under their belt.